To see your Spill Points balance, log in to your account and click on the "Rewards Program" tab. You will see how many points you've earned on past purchases and when you have redeemed your points.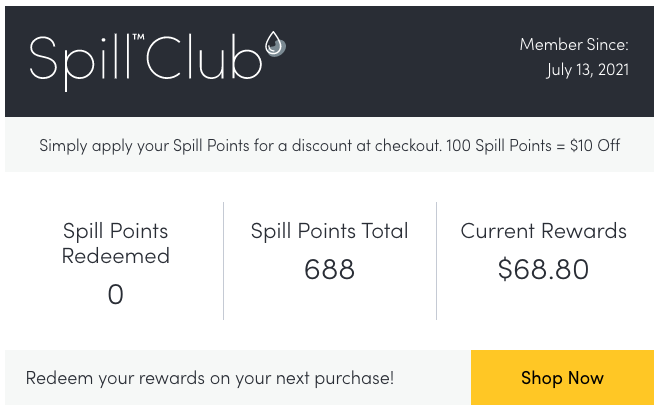 Can I retroactively have Spill Club points added from previous orders?
Unfortunately, no. You must create an account before purchasing in order to earn points. We cannot retroactively apply Spill Points at this time. You will be rewarded for any purchases made after your customer account has been created.
Can I combine points from multiple Spill Club accounts into a single account?
No. We cannot combine accounts at this time and urge you to use a single email address for all.
What happens to my Spill Points if I return a product?
Earned points from your returned order will be deducted from your account.
What happens to my redeemed Spill Points if I return the product?
If you used your Spill Points to purchase a product and then returned the product, the points used on the returned order will go back to your account.
What happens to my Spill Points if I cancel my order?
Points are awarded based on the total amount of completed orders. If an item is canceled from your order, you will not be charged, and you will not receive Spill Points for that item.