Earning Spill Points is easy! You earn 50 Spill Points right away when you create an account, 25 Spill Points when you sign up for SMS, 100 Spill Points on your birthday, and 1 Spill Point for every $1 you spend on Ruggable.com.
You will need to enter your birthday in your account in order to automatically receive 100 Spill points on your birthday. If your birthday has already passed at the time of signup, you will not receive the 100 Spill Points until the following year.
How do I redeem my Spill Points?
You can use your Spill Points to save on your next purchase on Ruggable.com. To see your Spill Points balance, log in to your account and click on the "Rewards Program" tab. You will see how many points you've earned on past purchases and when you have redeemed your points.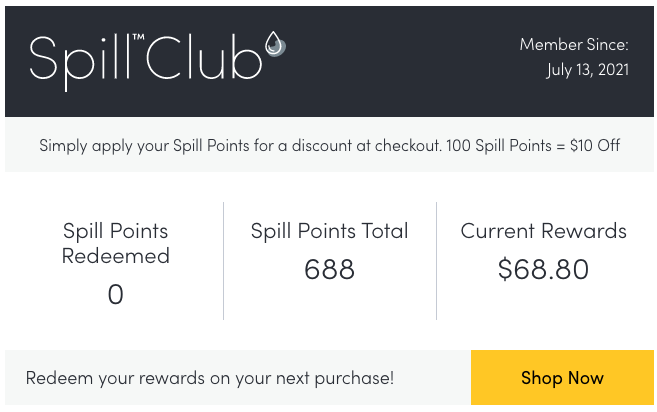 To redeem Spill Points, make sure you're logged in to your account. Then, select the amount you would like to redeem on the checkout page and click the "Apply" button. Please make sure you are not using a third-party checkout like Shop Pay or Afterpay, all purchases must be made directly through Ruggable.com to apply Spill Points.
Your eligible Spill Points will be converted to dollar savings, which will then be converted into a promo code that will be automatically deducted from your total purchase amount.
You must have at least 100 Spill Points to be able to redeem.

Do my Spill Points expire?
Yes. Unredeemed Spill Points expire after 12 months of inactivity.
To make sure your points don't expire, we encourage you to redeem your points within a 12-month period so that you'll enjoy all the perks and benefits of the program.
Can I combine my Spill Points with other discounts and offers?
No. At this time, we can only accept one promo code per order, so you cannot stack a dollar-off reward with any other promotion.
Are there any limitations on the number of Spill Points I can earn or redeem?
No, you can earn Spill Points on any qualified purchase, and there is no limit to the number of points you can earn. You may also redeem as many points as there are in your account, as long as you have met the 100 point minimum.